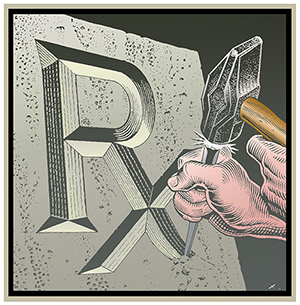 About
Roger Xavier is an internationally recognized scratchboard illustrator whose work has been commissioned for use on logos, annual reports, book covers and interiors, billboard graphics, exhibit displays and packaging.

Roger is equally adept in several line styles: fine/realistic, stylized/woodcut and bold/graphic. 

Bio
Before settling into his niche, Roger worked as a bio-medical illustrator and went onto working for various agencies in Hollywood specializing in packaging art for the entertainment industry.  It wasn't until 1991 that his illustrations for the Los Angeles Department of Water & Power's annual report gained recognition and numerous awards (Mead Paper award, AR 100, Print and Creativity) that his freelance career took off.
Over the years his client list has grown to include many internationally recognized brands such as Sauza Tequila, Wild Turkey, Miller Brewing Company, Domino's Pizza as well as a large list of prestigious and high caliber clients.
All images  and content ©2019 Roger Xavier
​​​​​​​